The Facsimilies

The Story of the Quest

Comdr. Frank Wild, CBE
The Quest, under the command of Ernest Shackleton, sailed from St Katherine's Dock, London on 17 September 1921. This was Shackleton's 4th Antarctic journey, the purpose of which was ostensibly to circumvent the Antarctic continent, looking for lost sub-polar islands. Shackleton was not well—and he saw this last voyage as a chance to relive old times. He appeared somewhat listless and was drinking too much. When the ship arrived in Buenos Aires he had what appeared to be a heart attack but refused to let any doctor attend to him. On 4 January 1922 the ship reached South Georgia and the following morning he had another heart attack and died. The Quest continued under the command of Frank Wild but there was little enthusiasm for further exploration and soon returned to South Georgia where, on 5 March 1922, Shackleton was buried. The Quest returned to England. In 1923 Wild undertook a series of lectures and talks about the voyage and this is a facsimile of a 1923 4-page brochure advertising these talks.
There a six photographs, a page on the Quest's trip and a page on Commander Frank Wild, CBE. The brochure is protected by a clear pocket and posted unfolded in a strong flat cardboard envelope.

The brochure is 255x190mm - 10" x 71/2" £4.00 Order

Antarctic Postcards
A series of six cards of various Antarctic scenes.
1. Three great Polar Explorers: Sir Ernest Shackleton, discoverer of the South Magnetic Pole, Rear Admiral Robert E. Peary, discoverer of the North Pole, and Roald Amundsen discoverer of the South Pole (photograph probably taken c.1912-13)
2. Shackleton's Endurance, crushed in the ice, October 1915
3. Scott's Discovery in Winter quarters, painted by Edward Wilson in 1903 .
4. One of a series of memorial postcards produced in 1913, after the news broke about the death of Scott and his party.
5. The Discovery in Winterquarters Bay. (Photographed by L.C.Bernacchi)
6. A new and accurate map of the Islands of the Antarctic, together with the neighbouring countries of Argentina, Chile, etc. (For the Erskine Press. © Talland Power).

Enclosed in a protective cellophane bag Price: £5.50 (inclusive of VAT) Order
ANTARCTICA
LEAVES FROM A DIARY KEPT ON BOARD AN EXPLORING VESSEL.
C. Reginald Ford

This is probably the rarest of all first-hand accounts of Scott's Discovery Expedition. Ford was a steward on the expedition and is notable mainly for being the first man to break his leg skiing in the Antarctic.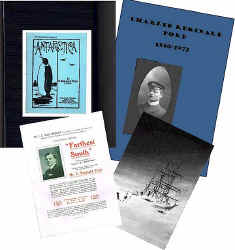 Upon the Expedition's return Ford acted as Scott's secretary during the leader's lecture tour. Some of his photographs were used by Scott in The Voyages of the 'Discovery'. He moved to New Zealand in 1906 and began to study architecture and later became a partner in one of that country's most prestigious firms.

Antarctica was published privately in 1908 and this is a facsimile of his original booklet. Ford, in a letter to a friend in 1963,confirmed that Scott himself gave him permission firstly to lecture in England and then later in Canada and Australia and also to write a book. He said 'I should quite probably have done these things without consent but I preferred to ask anyway.'

The booklet is 32 pages in length and has thirteen pictures. It is 150mm x 110mm (6" x 4.5") The cover is linen-textured card.

Presented in a black gift box it also contains a facsimile of a 4pp 1905 brochure (295 x 210mm) detailing the author's lectures in Australia and a 12pp pamphlet of biographical details, newspaper articles and pictures. Two Antarctic postcards are also included. The print run is limited to 400 copies.

This is a very unusual piece of Antarctic history. £30.00 REDUCED TO £10.00 Order


Antarctic days. Sketches of the homely side of Polar life by two of Shackleton's men. Illustrated by the authors, James Murray and George Marston, and introduced by Sir Ernest Shackleton.

A facsimile edition limited of 280 individually numbered copies. In association with The Ernest Shackleton Autumn School, a project of the Athy Heritage Centre Museum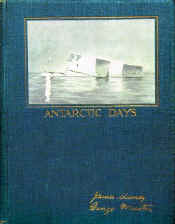 In 1913 James Murray and George Marston wrote ANTARCTIC DAYS - Sketches of the homely side of Polar life. Both men were with Shackleton on the Nimrod Expedition. James Murray was the biologist in charge of base camp and George Marston, the official expedition artist.

Marston was also official artist on the Endurance expedition and designed and produced the title pages and illustrations for Aurora Australis and contributed several paintings to Shackleton's The Heart of the Antarctic. When trapped on Elephant Island he gave up his oil paints to be used to help caulk the James Caird for the journey to South Georgia. He died in November 1940 and is buried in East Lyng, Somerset.

In June 1913 Murray joined a Canadian scientific expedition to the Arctic aboard the ill-fated Karluk as oceanographer. The ship became trapped in the Arctic ice in August 1913. Eventually, Murray mutinied against the captain and escaped across the ice with three others . Their fate remains uncertain.

In his introduction to the book, Shackleton wrote that this 'is the first time an unofficial, and therefore more human document, is presented to the public. …Anyone who wants to get to the kernel of the life of the Polar explorer should read the book.'

ANTARCTIC DAYS was originally published in 1913 as a limited edition of 280 copies as is this facsimile edition. With an introduction by Joe O'Farrell each book is cloth bound, jacketed and numbered. This is one of the most sought-after of Antarctic titles, ranking alongside both The Heart of the Antarctic and Aurora Australis. An original copy was recently sold at Bonhams and fetched £6,250 (incl. auctioneers commission).

304pp, 4 colour plates, 30 photographic illustrations and 24 further illustrations. Hardback and jacketed.
Price: £75.00 REDUCED TO £50.00 plus post. Order


The Ross Sea Shore Party 1914-17
R. W. Richards
In August 1914 Shackleton set sail for the Pole on board the Endurance. His expedition, with the rather imposing title of the Imperial Trans-Antarctic Expedition, was to make a trans-continental journey from the Weddell Sea on one side of the continent to the Ross Sea on the other. Shackleton was doubtful if enough provisions could be carried by the trans-continental party for the complete journey so his plan called for a second ship to land a team in McMurdo Sound whose task it would be to lay food depots every 60 miles, as far south as the Beardmore Glacier. This party, on board the Aurora, sailed late in the same year. In January 1915 they landed at McMurdo.

However, after a fearful storm their ship was ripped from its moorings and along with it went most of their supplies. Refusing to give up, the men scavenged enough from an earlier expedition and set out to do their work.

They trekked across some 2000 miles, always convinced that when they completed their task Shackleton would have sufficient supplies for the latter part of his journey. Three men died along the way.

The story of the Ross Sea Party's struggles has been almost ignored - unfairly so. It is one of the really notable polar journeys; ten men marooned with none of their own fuel, clothes or stores, yet by improvisation managing to stock depots for a party that would never come.

R.W. Richards, a young Australian physicist, set down his personal story for the Scott Polar Research Institute. This is a facsimile copy of their Special Publication No. 2, long out of print.

...in making this journey the greatest qualities of endurance, self-sacrifice and patience were called for, and the call was not in vain... Sir Ernest Shackleton

60pp, 240 x 165mm, hardback, jacketed, 2 photographs, 1 map
£14.95 REDUCED TO £10.00 Order


With the Aurora in the Antarctic 1911–1914
John K Davis
With a new introduction by Beau Riffenburgh
Douglas Mawson who led the Australian Antarctic Expedition 1911–14, called it a stirring tale of exploration in what he referred to as 'The Home of the Blizzard'. This expedition is well documented but much less well known is the story of the expedition's ship, the Aurora, and its remarkable captain – John King Davis. Both Davis and Mawson cut their Antarctic teeth as members of Shackleton's expedition of 1907–09 and, by the time he retired, Davis was one of the most experienced ice captains in the world. The Aurora was built in 1876 as an Arctic whaler. Although old and battered, captained by Davis it managed three Antarctic voyages in support of Mawson and his men. Known as 'Gloomy Davis' by his crew, he was a reticent man of principle and determination. His view of the captain's role brought him into direct conflict with Mawson, with inevitable tensions for the expedition. Yet both men were crucial to the success of the expedition, both in terms of exploration and science.

Published in a small edition in 1919 it is now very scarce and we are delighted to be able to re-publish, in facsimile form, the original account of the ship's exploits. The introduction by the well-known polar historian Beau Riffenburgh provides an excellent overview of both Davis and the expedition. This is a companion volume to our earlier book Trial by Ice – the Antarctic Journals of John King Davis, edited by Louise Crossley.

312pp + 1 fold-out map (includes 83 illustrations) hardback, blocked in gold on front and spine. REDUCED TO £17.50 Order