The Facsimilies

The South Polar Trail

The Log of the Imperial Trans-Antarctic Expedition
Ernest Mills Joyce. With an introduction by Hugh Robert Mill and a new introduction by Beau Riffenburgh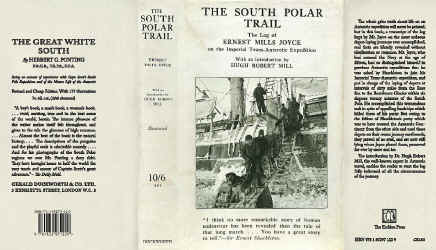 From the dust-jacket of the original edition:
The whole grim truth about life on an Antarctic expedition will never be printed, but in this book, a transcript of the log kept by Mr. Joyce on the most arduous depot-laying journeys ever accomplished, real facts are bluntly revealed without idealization or romance. Mr. Joyce, who had entered the Navy at the age of fifteen, had so distinguished himself in previous Antarctic expeditions that he was asked by Shackleton to join his Imperial Trans-Antarctic expedition, and put in charge of the laying of depots at intervals of sixty miles from the Ross Sea to the Beardmore Glacier within six degrees twenty minutes of the South Pole. He accomplished this tremendous task in spite of appalling hardships which killed three of his party. But owing to the failure of Shackleton's party which was to have crossed the Antarctic Continent from the other side and used these depots on their return journey northwards, they proved of no avail, and are now still lying where Joyce placed them, preserved for ever by snow and ice.

The introduction by Dr Hugh Robert Mill, the well-known expert in Antarctic travel, enables the reader to start the log fully informed of all the circumstances of the journey.

This is a limited edition facsimile of 300 individually numbered copies of the 1929 original, including the jacket.

Hardback, jacketed, 220pp + 32 plates.60 illustrations. Price £30.00 Order
FACSIMILE COVER FOR THE SOUTH POLAR TRAIL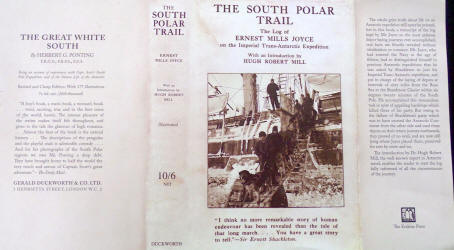 We have a small number of facsimile copies of the original cover of THE SOUTH POLAR TRAIL. These are the correct size and have been carefully produced to match as far as possible the original.
Price: £4.50 Order
8 POSTCARDS FEATURING SHIPS OF THE ANTARCTIC:
High quality postcards featuring images from early publications and some reproductions of early postcards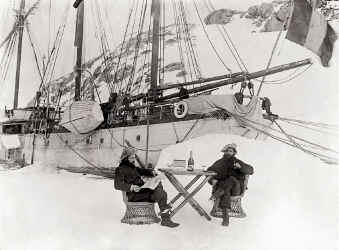 1. The Belgica during the Antarctic night – The Belgian Antarctic expedition of 1898-99. Photographed by Frederick Cook. Postcard dated 1900.
2. The Swedish South Polar Expedition of 1901-1904 – The Last moments of the Antarctic. . Postcard dated 1903.
3. The Discovery in winter quarters. Painted by Edward Wilson, 1903
4. Jean-Baptiste Charcot beside Francais, celebrating Bastille Day, July 1904
5. Shackleton's Endurance, crushed in the ice, October 1915.
6. One of a series of memorial postcards produced in 1913, after the news broke of the death of Scott and his party.
7. A colour postcard from the 1920s showing Shackleton's Endurance trapped the ice. This was not postally used, possibly because there are no polar bears in Antarctica.
8. Admiral Byrd's City of New York at the 1933 Chicago World's fair. Postcard dated 1933.
Price £5.50 (incl. VAT) Order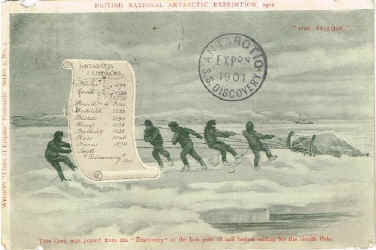 High quality postcards featuring images from early publications and some reproductions of early postcards
1. Souvenir postcard commemorating the return of the Belgian Scientific Expedition of 1898-99. Postcard dated 1899.
2. Postcard produced in 1904. The cards were transported on Discovery and posted at various ports on the way down. Each card carried a cancellation stamp of SS Discovery. This card was posted in New Zealand.
3. Scott's Discovery in Winterquarters Bay. Photograph by Louis Bernacchi, 1903
4. Ernest Joyce, dogs and penguins. Postcard dated 1909.
5. A 1910 Shell card advertising card.
6. A 1910 postcard celebrating the reaching of the North Pole – at different times – by Frederick Cook and Robert Peary. This was obviously issued before all the controversy arose.
7. Three great polar explorers – Shackleton, Peary and Amundsen. Photograph probably taken c.1912-13.
8. A new and accurate map of the islands of the Antarctic, together with the neighbouring countries of Argentina, Chile, etc. Drawn for The Erskine Press by Talland Power, 2009.
Price £5.50 (incl. VAT) Order
The Story of the Quest

Comdr. Frank Wild, CBE
The Quest, under the command of Ernest Shackleton, sailed from St Katherine's Dock, London on 17 September 1921. This was Shackleton's 4th Antarctic journey, the purpose of which was ostensibly to circumvent the Antarctic continent, looking for lost sub-polar islands. Shackleton was not well—and he saw this last voyage as a chance to relive old times. He appeared somewhat listless and was drinking too much. When the ship arrived in Buenos Aires he had what appeared to be a heart attack but refused to let any doctor attend to him. On 4 January 1922 the ship reached South Georgia and the following morning he had another heart attack and died. The Quest continued under the command of Frank Wild but there was little enthusiasm for further exploration and soon returned to South Georgia where, on 5 March 1922, Shackleton was buried. The Quest returned to England. In 1923 Wild undertook a series of lectures and talks about the voyage and this is a facsimile of a 1923 4-page brochure advertising these talks.
There a six photographs, a page on the Quest's trip and a page on Commander Frank Wild, CBE. The brochure is protected by a clear pocket and posted unfolded in a strong flat cardboard envelope.

The brochure is 255x190mm - 10" x 71/2" £4.00 Order

Antarctic Postcards
A series of six cards of various Antarctic scenes.
1. Three great Polar Explorers: Sir Ernest Shackleton, discoverer of the South Magnetic Pole, Rear Admiral Robert E. Peary, discoverer of the North Pole, and Roald Amundsen discoverer of the South Pole (photograph probably taken c.1912-13)
2. Shackleton's Endurance, crushed in the ice, October 1915
3. Scott's Discovery in Winter quarters, painted by Edward Wilson in 1903 .
4. One of a series of memorial postcards produced in 1913, after the news broke about the death of Scott and his party.
5. The Discovery in Winterquarters Bay. (Photographed by L.C.Bernacchi)
6. A new and accurate map of the Islands of the Antarctic, together with the neighbouring countries of Argentina, Chile, etc. (For the Erskine Press. © Talland Power).

Enclosed in a protective cellophane bag Price: £5.50 (inclusive of VAT) Order