SOUTHWARD ON THE QUEST
The Scala Cinema Portfolio
An unusual collection of Shackleton and Quest 'ephemera'
When Southward on the Quest, the film of the expedition, was released, the Scala Cinema in London issued, to go with the film, "A fine series of Souvenir Pictures of the Shackleton Antarctic Expedition' which could be had of the attendants. Price 2/6."

This was a folio of 8 photographs taken during the expedition, bound in a brown paper cover and tied with a cord. Originals are rather rare. One was sold recently for around £2,500.

I was fortunate to acquire what appears to be a proof copy, sent to Frank Worsley. It has the inscription: Jean; from Wuzzles, Xmas, 1923. 'Wuzzles' was Worsley's nickname. It's quite large: 360 x 290 cms (14" x 11.5").

This facsimile is limited to 275 copies. It has 8 photographic plates, the covers are thick brown board, and with it is the following:

1. A 16pp facsimile of the New Scala Cinema brochure for the film. It contains "The Story of the "Quest" by Commander Frank Wild, CBE, and other details of the expedition, crew etc;

2. A four page facsimile flyer advertising a talk by Frank Wild to be held in Eastbourne in December, 1923

3. Twelve images of the Quest expedition in the form of postcards;

4. An 8pp brochure certifying the copy number, with various pictures, film review, and maps.

Limited to 275 copies. Price £50.00 Order
IN THE LAND OF THE PENGUINS
An account of the Voyage of the Belgica – Georges Lecointe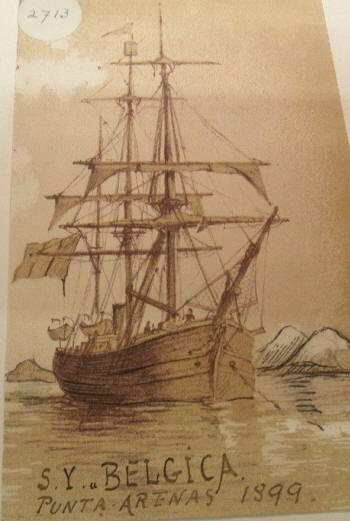 Over 120 years ago a Belgian expedition set sail for the Antarctic. Under the command of Adrien de Gerlache de Gomery it was the first expedition of a purely scientific nature and it provided a wealth of information along with the first pictures ever taken on the ice. Though the explorers did not reach the Pole they were the first to overwinter in the Antarctic.
On board the ship were two famous Polar explorers, Roald Amundsen, the future conqueror of the South Pole and Dr. Frederick Cook, who already explored much of the Arctic with Commander Robert Peary and who later claimed to be the first to reach the North Pole.
Georges Lecointe was appointed first officer (and therefore second in command) on board Belgica. Lecointe was also responsible for hydrography , depth-soundings and charting.
This was a multi-national expedition – Belgian, Norwegian, Polish, an American doctor and a Romanianzoologist. With such a diverse crew and almost a year stuck in the ice there were problems aplenty. That all ended well was due largely to four men – Amundsen, Cook, Lecointe and de Gerlache himself. Lecointe's book is perhaps the most readable of all accounts of the voyage.
The first English translation of Lecointe's 1904 book of the Belgica Expedition.
330pp, hardback. Jacketed. 90 photographs and illustrations, five separate maps, 20pp brochure, five postcards of the expedition. Price £42.50 Order

The South Polar Trail

The Log of the Imperial Trans-Antarctic Expedition
Ernest Mills Joyce. With an introduction by Hugh Robert Mill and a new introduction by Beau Riffenburgh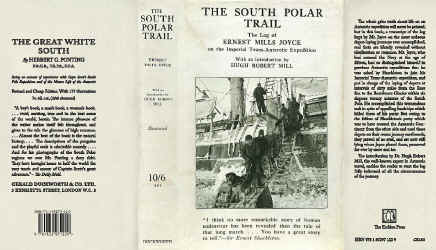 From the dust-jacket of the original edition:
The whole grim truth about life on an Antarctic expedition will never be printed, but in this book, a transcript of the log kept by Mr. Joyce on the most arduous depot-laying journeys ever accomplished, real facts are bluntly revealed without idealization or romance. Mr. Joyce, who had entered the Navy at the age of fifteen, had so distinguished himself in previous Antarctic expeditions that he was asked by Shackleton to join his Imperial Trans-Antarctic expedition, and put in charge of the laying of depots at intervals of sixty miles from the Ross Sea to the Beardmore Glacier within six degrees twenty minutes of the South Pole. He accomplished this tremendous task in spite of appalling hardships which killed three of his party. But owing to the failure of Shackleton's party which was to have crossed the Antarctic Continent from the other side and used these depots on their return journey northwards, they proved of no avail, and are now still lying where Joyce placed them, preserved for ever by snow and ice.

The introduction by Dr Hugh Robert Mill, the well-known expert in Antarctic travel, enables the reader to start the log fully informed of all the circumstances of the journey.

This is a limited edition facsimile of 300 individually numbered copies of the 1929 original, including the jacket.

Hardback, jacketed, 220pp + 32 plates.60 illustrations. Price £30.00 Order
FACSIMILE COVER FOR THE SOUTH POLAR TRAIL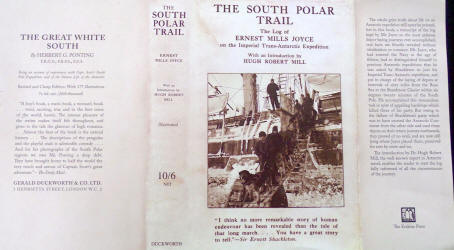 We have a small number of facsimile copies of the original cover of THE SOUTH POLAR TRAIL. These are the correct size and have been carefully produced to match as far as possible the original.
Price: £4.50 Order