Miscellanea
12 A4 pages, each with a different Antarctic scene from the golden age of Antarctic exploration.

Size is 305 x 214mm, on thick glossy paper. A real treasure - and a perfect stocking filler for Christmas (which is nearer than you realise).

Calendar is in a large white envelope and posted in a strong cardboard envelope.

Price: £12.00 Order
HUSKIES OF THE HEROIC ERA OF ANTARCTIC EXPLORATION
A short history of Huskies during the heroic age of Antarctic Exploration
written by David Jensen, chairman of the Mawson's Huts Foundation, the not for profit charity he founded in 1997 to conserve the historic huts at Cape Denison, East Antarctica.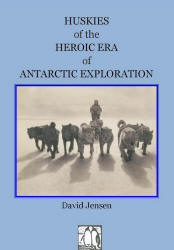 This is a fascinating account of the development of the use of huskies who first stepped ashore in Antarctica on February 17, 1899 and left their paw marks on the ice for the very last time 95 years later in 1994.

76 pp, softback, approx. 30 pictures. All royalties from the sale of this book go to the Mawsons Huts Foundation. Price: £12.00 REDUCED TO £10.00 Order
TWO YEARS BELOW THE HORN
A Personal Memoir of Operation Tabarin
Andrew Taylor. Edited and with an introduction by Stephen Haddelsey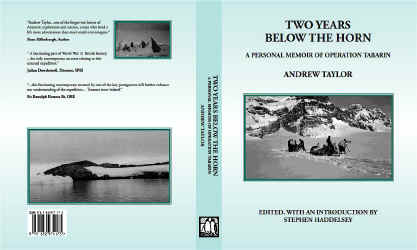 Andrew Taylor, the field commander of Operation Tabarin was one of the forgotten heroes of Antarctic exploration. Early in 1944 nine men landed on a tiny, barren island off the west coast of the Graham Land Peninsula in Antarctica. Armed with only a small assortment of rifles and pistols and with an obsolete 12-pounder mounted on the bows of their decrepit supply vessel, their official purpose was to prevent German U-boats and surface raiders from using Antarctic and sub-Antarctic harbours for refuelling and resupply. Unofficially, they were tasked with reasserting British territorial rights in the face of increasingly confident incursions by neutral Argentina.

This two-year expedition, code-named Operation Tabarin, was the precursor to the Falkland Islands Dependencies Survey and the present-day British Antarctic Survey, and the arrival of the nine British and Commonwealth soldiers, sailors and scientists marked both the beginning of Britain's permanent presence on the Antarctic continent and the commencement of a complex programme of scientific research and exploration which continues to this day. Written in 1947 by the man who ultimately became Operation Tabarin's commander-in-the-field, this is the only contemporary account to cover the expedition's entire two-year history. Never before published, it provides a unique perspective on events that are vital to our understanding of both the history of Antarctic exploration and the complex geopolitics of the region.

Hardback, jacketed, 376pp, approx.; 4pp colour and 12pp b&w plates.Over 80 pictures, drawings and maps. Price: REDUCED TO £22.00 Order
THE CREVASSE
A Critical response to FLAWS IN THE ICE
Karyn Maguire Bradford, with an introduction by Beau Riffenburgh.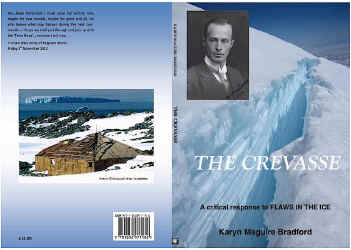 In 2013 the Australian author and historian, David Day, published Flaws in the Ice, a new biography of the Australian, Douglas Mawson.

When Karyn Bradford read the book she was somewhat incensed at the conclusions the author had reached about one of the Heroic Age's foremost explorers, The negative picture Day presented was so much at odds with what she had thought from her previous extensive reading about Mawson that she decided to write this essay to analyse some of the most damning criticisms Day makes and to present a contrasting point of view based on evidence from many sources.

96pp, softback, illustrated; £14.00 REDUCED TO £10.00 Order


THE NIMROD MURDERS

Simon Beaufort
On 30 July 1907, members of the British Antarctic Expedition, led by Ernest Shackleton, sailed down the Thames on the tiny, refurbished sealer Nimrod. Some six months later, in February 1908, the expedition landed in Antarctica. At Cape Royds, Shackleton and his companions built a hut and set up camp. They then began their long wait for the following spring, when Shackleton would head into the icy unknown in an attempt to become the first man ever to reach the South Pole. In the worldwide fame and glory that followed the return of Shackleton's party to civilisation, little was ever said about a dark incident that almost halted the expedition before it ever sailed from London's East India Docks. On the eve of departure of the Nimrod to the Antarctic, the body of the assistant biologist was found in the East India Docks. Without a doubt he had been murdered. Raymond Priestly, just short of his 21st birthday, had been appointed expedition geologist and was one of the first on the scene and it fell to him to undertake an investigation, along with Inspector William Taylor, an old school friend of Shackleton's, into the events surrounding this dark deed. He had no knowledge of the danger into which he would soon be plunged.

Simon Beaufort is a pseudonym for a pair of academics formerly at the Scott Polar Research Institute at the University of Cambridge. One is an award-winning historian, the other a successful crime writer, who publishes under the name Susanna Gregory.

376pp Hardback, jacketed £16.95 REDUCED TO £10.00
Softback £9.95 REDUCED TO £6.00
ISBN: 978 1 85297 112 0 Order.


AURORA - Douglas Mawson and the Australasian Antarctic Expedition 1911-14

Beau Riffenburgh
In 1911 Douglas Mawson organised and led the Australasian Antarctic Expedition (AAE) - a scientific investigation of the Antarctic on a scale never before considered. At the same time it was responsible for the exploration of vastly more territory than any other Antarctic expedition. It consisted of three land bases operated by 32 men, seven major sledging journeys (as well as numerous shorter ones), and a full oceanographic programme in addition to its shore-based scientific studies. Yet what was intended by Mawson to be a scientific exercise devoid of heroic adventure, also proved to be a tale of death, determination, and raw courage.

The dynamic character of Mawson, the expedition's sheer scale, and the fact that most of what happened on it has never entered the public consciousness were very appealing reasons to investigate such an epic venture. Compiled, for the first time, from all the available sources—diaries, correspondence and reports— the result is the first examination of the full expedition since Mawson's The Home of the Blizzard was published in 1915. It was Mawson who...of all Southern explorers, gave the world the greatest contributions in polar science and his own people the greatest territorial possessions in the Antarctic.

…the greatest survival story in the history of Exploration Sir Edmund Hillary

Beau Riffenburgh is an historian specialising in exploration, particularly Polar. He served for 14 years as editor of Polar Record, headed the Scott Polar Research Institute's Polar History Group and lectured in Cambridge University's History Faculty. He has written numerous books on polar exploration, including The Myth of the Explorer, and Nimrod, the tale of Shackleton's heroic attempt on the South Pole. He was also the editor of the award-winning, two-volume Encyclopaedia of the Antarctic, the most comprehensive Antarctic reference work ever published.

536pp, hardback, jacketed, over 70 photographs, 11 maps and drawings, 1 pull out-map: £37.50 REDUCED TO £27.50
ISBN 978 1 85297 108 3 Order


ICE TRACKS – Today's Heroic Age of Polar Adventure
Angie Butler
For little more than 100 years the Arctic and Antarctic have inspired some of the greatest stories ever told. The exploits of Scott, Amundsen, Shackleton and many, many others have inspired and awed millions of people over the years.

Ice Tracks brings together for the first time the accounts of eighteen of our greatest present day Polar explorers — Sir Ranulph Fiennes and Robert Swan, Rosie Stancer and Ann Daniels, Matty McNair and Dr Viktor Boyarsky — English, Russian, Swedish, Canadian — they all share a love of the extreme.

Their expeditions across the two Poles have demanded extraordinary bravery, unimaginable privation and sometimes a little luck.

Ice Tracks, with its superb photographs, leaves no iceberg unturned to lay bare today's Polar world.

160pp, in full colour with over 70 photographs, maps and drawings REDUCED TO £7.50 Order


CLIMBING THE POLE. Edmund Hillary and the Trans-Antarctic Expedition 1955-57

JOHN THOMSON
In 1957 on the Antarctic Plateau Sir Edmund Hillary, the great New Zealand mountaineer, raced his expedition leader, Vivian Fuchs, to the South Pole for reasons that were never fully explained. Hillary's spin was that the Pole was there and he had time and fuel to get there first: so he did.

Hillary's actions threw Fuchs' Trans Antarctic Expedition into confusion. When he then suggested that Fuchs halt his march across Antarctica at the Pole and return a year later to complete the historic crossing, Hillary appeared to be approaching a state of mutiny on the ice: he was roundly criticised by many interested in Antarctic affairs, except that at home in New Zealand his spin took root and has never been vigorously challenged.

Examining records that could more fully explain why Hillary acted as he did took the writer into part of the history of the TAE: the part that somehow had escaped close examination for around half a century.

When the New Zealand Prime Minister heard that Hillary was to go on the expedition he remarked: "Edmund Hillary climbed Everest, they think he can climb the South Pole too."

John Thomson is the author of the acclaimed Elephant Island & Beyond – the Life and Diaries of Thomas Orde Lees which was described by the historian and writer on Polar matters, Joe O'Farrell, as one of his own personal top-ten favourite polar books which have given him the greatest reading pleasure.

168pp, softback, over 35 photographs and maps

£15.00 REDUCED TO £10.00 Order